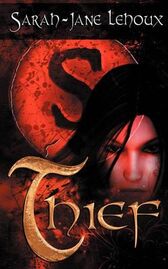 Thief is the first book in Sarah-Jane Lehoux's Sevy series. It follows the tale of a girl named Sevy and her life, filled with trials and tribulations. Mundania Press released this book on May 25th, 2010.
Corralling Books's Review
Edit
This book is one of the few books that captured my attention from the very start. Even rarer, it's one of the few books that captured my attention while being set in an alternate world/dimension/country. I usually hate starting to read those books because of all the new terminology I have to learn, etc. This book was different.
Well, let's start with the terminology and culture. This book is set in Eloria, with fantasy species, such as dark elves and dwarves, etc. When I first came across the term 'dark eleves' in this book, I had no idea what it was, and got so curious, it was quite irritating. I loved how Lehoux twisted our conceptions of elves around and made them different. Elves were not one race; rather there were different races of elves! It's different, but familiar at the same time, and so, I didn't feel so out of place and confused.
I really can't fault this book at all. I love Sevy's character, I really do. She keeps strong although she has lost so much. She is the epitome of what protagonists in books should be. If only there were more books out there with such a strong, courageous and fearless protagonists!
I loved the plot of the book. I loved how it was set out in three parts; the first part really setting out the basis of the story, the second part intensifying everything up, being all dramatic and making me feel all jumbled up and the last part was just so action-packed!!!! When people say that books are like a rollercoaster, well they are talking about books like these.
This book has garnered a 5 out of 5 star rating from me. Any book that keeps me hooked throughout will get such a high rating from me. I'm not a person who procrastinates usually, but this book kept drawing me back in, and I kept thinking about it, even when I was supposed to work. I can't wait to be able to read the next book, 'Shades of War' soon! Just as soon as I get more books on my pile out of the way... Sigh...
Goodreads page-http://www.goodreads.com/book/show/8301159-thief
Invisible Author's Society's Content page-http://the-invisible-authors-society.wikia.com/wiki/Content:_Thief